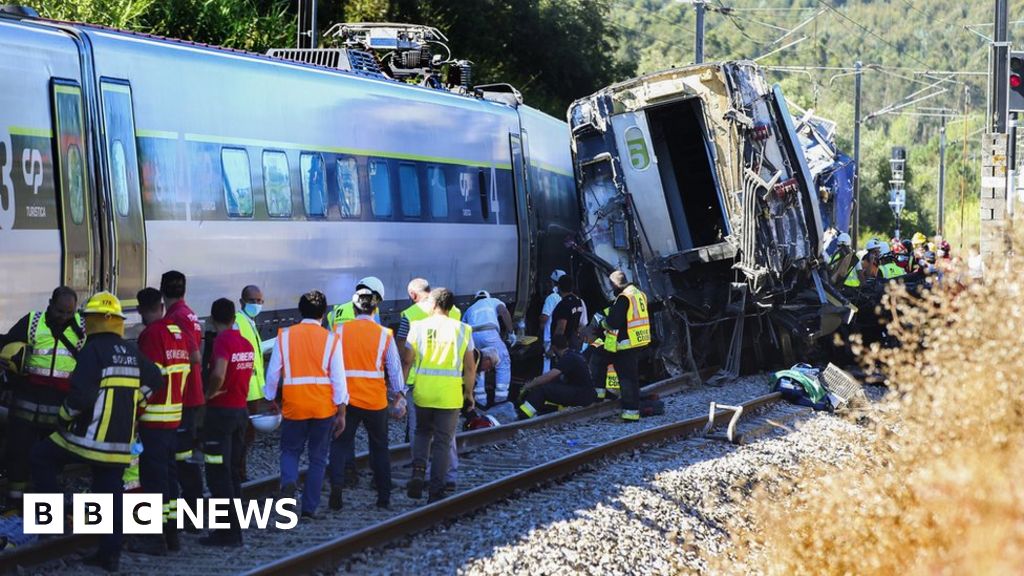 A high-speed train has derailed in the Portuguese district of Coimbra, killing two and injuring at least 30 others.
The train was travelling north when it collided with a railway maintenance machine in the town of Soure.
Mayor of Soure Mário Jorge told Portuguese media that the crash happened at about 15:30.
The country's national relief operations authority CNOS told Reuters news agency that emergency services were at the scene.
A CNOS spokesman said there were 163 rescue personnel, including firefighters, and two medical helicopters.
There were 240 passengers on board the Alfa Pendular train, which is the fastest in Portugal, they said.
The local District Command of Relief Operations in Coimbra also told the agency that more emergency services were on their way.
A field hospital is also reportedly being set up nearby.
According to local media, several people remain trapped on the train.
A witness told Portuguese newspaper Diário de Noticias that there was panic inside the train at the time of the crash, and passengers shouted: "Everyone get on the ground!"
Latest posts in the same category
An Australian woman has suffered injuries after being struck and injured by a whale shark while snorkelling. The woman, 29, had been swimming with a . . .
Read more
Renowned American pianist Leon Fleisher has died from cancer, aged 92. Fleischer rose to prominence as a child prodigy in the 1940s but his playing . . .
Read more